Some of us greeted the day by meditating at the
rock chapel with Tiffany Weis. Some of us did an
energizing yoga with Lori Souza.

Caught eating breakfast, Donna Y. can attest to how enjoyable our meals were. The tables were lovely, the company great, and the food delicious and plentiful. Donna was our enthusiastic raffle chairperson this year. "What a fun job!" she says.




When we gathered for our morning session, Kyra told us:

Awakening to Enchantment is a choice to be conscious to that which is always available to us and surrounding us in the unseen realms. Identify what enchantment looks and feels like for you, then you will recognize its presence in everyday life. We choose to open our hearts and live in such a way that enchantment becomes our customary experience. We consciously remain aware to that greater spiritual perspective. As we live in this expanded reality, we not only experience enchantment within ourselves, but we create it for those around us.

| | |
| --- | --- |
| | |
Througout the weekend, we gathered in our color-coded Enchantment Circles and process our views by sharing answers to printed questions. What a blessing to work with and learn from our group members.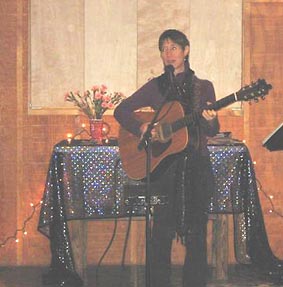 All weekend long we were blessed with the music and wisdom of Jody Kessler that added so much to Kyra's messages. Along with old faviorites like "It's in Every One of Us," she taught us songs and chants like Setafiralla Zikr from a variety of sources, reminding us it is the meaning behind the words that have the power.